Prayer resources
777 - Worldwide Holy Spirit Prayer Fellowship
Seventh-day Adventists are praying seven days a week at 7 a.m. and 7 p.m. for the outpouring of the Holy Spirit's power and presence. Praying any hour on the hour a person will join with thousands of others in another time zone around the world bringing unity. Learn more
Free ebook: Praying for Rain - A Mini-Handbook for United Prayer
Why Pray for Rain? Why United Prayer? What Is United Prayer? This little gem will help you and your church realize the blessings that united prayer will bring.
Also available in:
Download PDF Download ePub Download MOBI
---
Communion With God: A Devotional Guide for the School of Prayer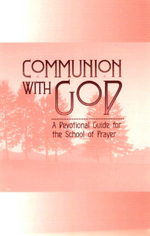 Available for free in:

PDF for all devices
ePub for iBooks on iPhone®, iPad®, or iPod Touch® and other devices
MOBI for Amazon Kindle®
Days of Prayer & Fasting
January 3, 2015
April 4, 2015
July 4, 2015
The first Sabbath of each quarter is designated as a day of prayer and fasting for the world church. Members should focus their prayers on specific themes during the designated Prayer and Fasting Days, while also remembering to pray for other local and individual needs. Fasting can consist of eating sparingly of the simplest foods, drinking fruit juices, or abstaining from some or all forms of media (TV, radio, internet, phones, etc.). There is no merit in a prolonged fast versus a short fast, or a complete fast versus a partial fast. It's a personal decision. Fasting helps expose those things that control us, and allows us to spend more time with God. For more ideas, see links below.
Themes for Prayer and Fasting
Urgent prayer request: Ebola Outbreak in West Africa
According to the World Health Organization the death toll from the Ebola virus in West Africa has climbed to more than 4,400 in six months, with 8,914 confirmed cases as of October 13, 2014.
Please pray for protection for the healthcare workers caring for the sick.
Pray for church members and leaders as they minister to those affected by the Ebola virus.
Pray for those who have lost loved ones to the disease.
Pray for a medical breakthrough in treating the Ebola virus.
Pray that God will put a halt to the spread of this virulent virus.
Mission to the Cities
Plans and activities of all thirteen divisions and attached unions (Middle East and North Africa Union) regarding "Mission to the Cities".
Integrated focus of all Seventh-day Adventist media activities to provide for massive evangelistic emphasis around the world.
Full understanding and usage of Comprehensive Health Ministry ("medical missionary work") allowing all church members to meet people's needs and follow Christ's ministry of service to others.
Deeply spiritual and evangelistic perspective of every church administrator around the world as they point church members to Christ and the unique mission and message of the Seventh-day Adventist church founded on Revelation 12:17, Revelation 14:6-12; and Revelation 18:1-4 which have been entrusted into the hands of God's end-time church.
We must beseech the Lord to help pastors and church members to never lose the prophetic identity of who we are as the Seventh-day Adventist Church—God's remnant church at the end of time.
United evangelistic and witnessing activities of every Seventh-day Adventist man, woman, and child around the world empowered by the Holy Spirit's power as we submit to His leading in our lives. This will keep us active in God's service combatting apathy and complacency through the indwelling of the Holy Spirit in each life. Total engagement and active participation of every church member around the world is a key to the final proclamation of the Loud Cry. As we submit to the leading of the Holy Spirit, this will allow Christ to make us one, thus fulfilling Christ's prayer of John 17 as we understand our role in this world as a prophetic movement and fact the end of the great controversy leading to Christ's soon return.
Resources for Prayer & Fasting
"Experiencing God Through Prayer and Praise!" Handouts
Download individual chapters:
Inspiration on prayer
"Be anxious for nothing, but in everything by prayer and supplication, with thanksgiving, let your requests be made known to God; and the peace of God, which surpasses all understanding will guard your hearts and minds through Christ Jesus."
- Philippians 4:6,7
"Prayer is the opening of the heart to God as to a friend. Not that it is necessary in order to make known to God what we are, but in order to enable us to receive Him. Prayer does not bring God down to us, but brings us up to Him."
- Steps to Christ 93
Ten Days of Prayer
Ten Days of Prayer, formerly Operation Global Rain (OGR), is a ten-day period of worldwide united prayer held each January to seek the outpouring of the Holy Spirit. If your church is unable to participate in January, you can choose any other ten day period that works for your schedule. We have lots of free resources for you: printable daily theme sheets, Praying For Rain mini-handbook on prayer, and more. Click here to go to the Ten Days of Prayer resources page.
Printable prayer postcards
Also available in Mongolian
CARD FRONT
|
CARD BACK